495. Velikogorički vikend-go-turnir – 17. 01. 2015.
Mjesto igre: Sportski klub osoba sa invaliditetom 'Uspon', Matije Slatinskoga 4 u Velikoj Gorici ( ulaz sa dvorišne strane jedne od zgrada prije doma zdravlja iz smjera Zagreba – vidi sliku dolje )
Datum: 17. 01. 2015. – subota
Vrijeme za igru: 45 minuta po igraču
Byoyomi: 30 sekundi za potez 3 puta
Partije: ravnopravne
Komi: 6,5 poena
Sistem: Mc Mahon u 3 kola. Ako bude vremena, po dogovoru je moguće i četvrto kolo.
Satnica: 10:00 – Početak turnira
Po završetku svakog kola počinje slijedeće.
Pristup: besplatan i slobodan za sve koji znaju pravila igre ili žele naučiti igrati Go
Moguće je uključenje u turnir i u kasnija kola, kao i odlazak prije završetka uz najavu odlaska voditelju turnira. Turnirski sistem to omogućuje
Partije ovoga turnira se boduju za europsku rating listu kao B-klasa.
Informacije: mladen.smud@gmail.com
Mjesto igre: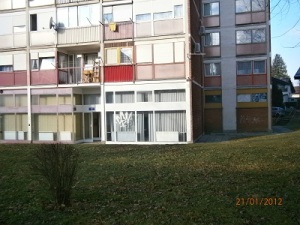 The following two tabs change content below.
Latest posts by Daniel Zrno (see all)