Croatia Open Go Championship 2018 – European Grand Prix level C!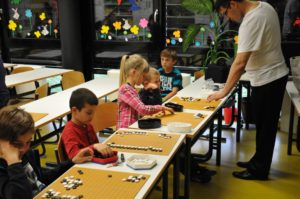 Croatian Go Alliance is honored to invite you to participate in Open Croatian Go Championship 2018. The tournament will be held in Zagreb on May, 26-27, 2018, as the highlight of "The Second Croatian Go Week" (May 21-27, 2018), a part the project "Go – the game with(out) boundaries" (funded by the Ministry of Science and Education of the Republic of Croatia).
European go federation included the tournament into the European Grand Prix series as the level C tournament!
More information about the European Grand Prix can be found here: https://www.eurogofed.org/EuropeanGrandPrix/
Venue: Primary school Alojzija Stepinca, near the Jarun Lake in Zagreb,
System: 5 rounds McMahon, Japanese rules, komi 6.5,
Time limits: main time 60 minutes, Japanese byoyomi 3×30 seconds.
In more detail here (pdf, 900 kB): CroatianOpen2018_en
Registration for Croatian Open 2018
See you in Zagreb!
The following two tabs change content below.